A hand-selected team of specialized aesthetic physicians, nurses and certified support staff await you at Preventous Cosmetic. We work closely together to thoughtfully address our patients' needs – always with a little humour and a lot of warmth.
Meet Dr. Rohan Bissoondath
Preventous Medical Director

"We want every patient to experience first class care ~ from a warm initial phone call to a thorough treatment experience and at every step along the way. Preventous Cosmetic Medicine is about consistency, excellence and results."
Dr. Rohan Bissoondath is passionate about all facets of medicine. His extensive resume will take you on an exotic vacation to the Caribbean before returning you to Canadian soil and "cool" Calgary winters. Born and raised in Calgary, AB, Rohan pursued his medical education and early training abroad. Having completed his Bachelor of Science at the University of Calgary, young Rohan—a lover of new adventures and exciting challenges—packed up and headed for warmer waters and white sandy shores.
Rohan received his medical degree from the University of the West Indies and participated in subsequent medical training throughout the Caribbean. His time at the University of the West Indies, St. Augustine, Trinidad and Tobago and Princess Margaret Hospital, Nassau, Bahamas allowed Rohan to experience varying aspects of medicine helping prepare him for his future endeavors in preventive medicine. Rohan returned to Calgary in 2002 and, after unpacking his winter coat, began his residency in Family Medicine at, his Alma Mater, the University of Calgary. A mere two years later, Rohan completed his residency and was eager to bring his unique outlook on patient care to the city of Calgary.
Fast forward to the present and witness the beauty that is Preventous Collaborative Health. Having experienced the inconsistencies in patient care and a greater focus on reactionary medicine in today's world, Rohan knew he wanted to create an integrated healthcare centre primarily focused on the idea and application of preventive medicine. The preventive (and proven) approach to integrated healthcare naturally progressed into a preventive approach to aesthetic medicine and thus became Preventous Cosmetic Medicine.
Rohan's passion for health and wellness is what drives Preventous Cosmetic; to Rohan, healthy skin is beautiful skin. Rohan was quickly drawn to aesthetic medicine for its artistry and positive emotional benefits. Known for his relentless pursuit of mastery (and a passion for learning new things), Rohan sought countless opportunities for training and study to acquire an extensive understanding of facial anatomy – which has been considered his personal secret to successful facial rejuvenation.
After years of practical experience, Rohan has advanced the field of cosmetic practice in Calgary. His strong focus on skin health and preventive medicine is changing the way his patients see themselves. Through his command of the aging face and dedication to patient experience, Rohan is committed to providing an altogether unique and artistic approach to cosmetic treatment.
When asked to describe the Preventous difference Rohan had this to say:
"At Preventous, we look at medicine differently. We want to create an elegant aging experience."
Elegant aging – who doesn't want that?
Dr. Rohan Bissoondath is certified by the College of Family Physicians of Canada and licensed through the College of Physicians and Surgeons of Alberta. He is also a member of the Canadian Association of Aesthetic Medicine.
-
Meet Dr. Aaron Woodard 
Aesthetic Physician

"I endeavor to develop a long term relationship with my patients – to be more than just their treatment provider. I strive to surpass their expectations in an environment that is warm and welcoming, relaxed, and exceptionally safe."
Dr. Aaron Woodard likes to keep busy. Never one to settle, Aaron is always taking on new challenges and advancing his medical education. A born and raised prairie boy, Aaron completed his undergraduate and medical school at the University of Saskatchewan in Saskatoon. A lover of the flat lands, Aaron travelled west in 1996 to complete his family medicine residency at the University of Calgary.
After graduating from his residency program, Aaron spent a few years practicing family and emergency medicine throughout Alberta, Saskatchewan and New Zealand. Ready to take on a new challenge, Aaron hopped on board Norwegian Cruise Lines and spent the next 6 months travelling through the South Pacific and Alaska as a member of their on board physician team.
Returning to Calgary in 2000, Aaron has been honing his medical skills and expanding his medical training through continuing education. Today, Aaron is a proud and respected member, of the Preventous Cosmetic team. Always looking to expand his medical knowledge, Aaron transitioned into Aesthetic Medicine under the guidance of friend and colleague, Preventous Medical Director, Dr. Rohan Bissoondath.
"Aaron's strong skill set and high ethical standards make him an excellent fit for the cosmetic specialty." – Dr. Rohan Bissoondath
Now years after an intensive apprenticeship and through ongoing training with industry leading educators, Aaron is reputed for his advanced dermal filler technique. An artist of tear troughs, cheeks and lips, Aaron melds art with medicine in his approach to facial rejuvenation.
Dr. Aaron Woodard is certified by the College of Family Physicians of Canada and licensed through the College of Physicians and Surgeons of Alberta. He is also a member of the Canadian Association of Aesthetic Medicine.
-
Meet Frances Krawiec
Nurse Practitioner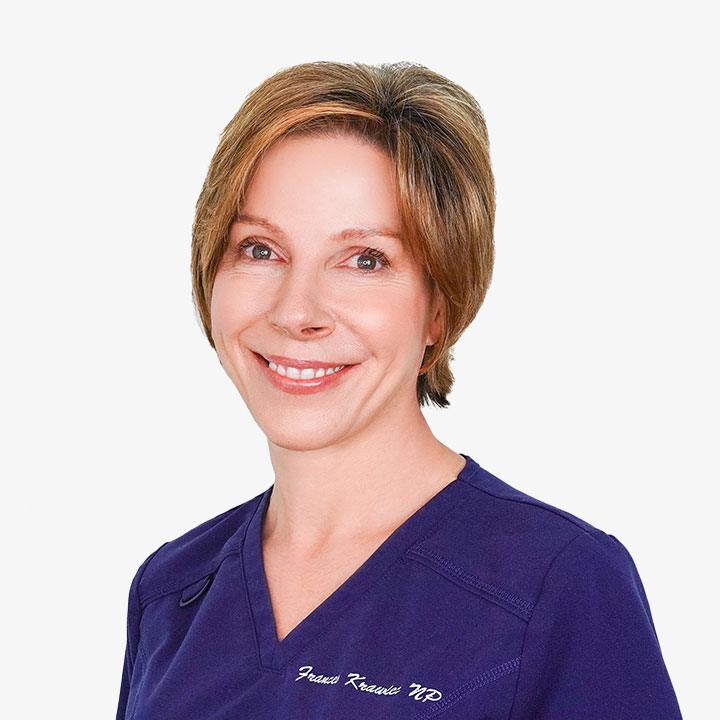 "Beauty is a journey with your patient, and high standards of excellence and precision are always in the forefront of my practice"
Frances Krawiec is a brilliant addition to the Preventous team.  Fran is a highly trained Nurse Practitioner who performs facial rejuvenation services including injectables at Preventous Cosmetic.  As a Nurse Practitioner, Fran is able to provide independent and collaborative comprehensive clinical management of patients bringing together medical and nursing knowledge and values. Fran obtained her Bachelor of Nursing from the University of Calgary and in pursuit of excellence in healthcare, went on to obtain her Masters of Health Sciences from McMaster University and then a Nurse Practitioner Degree from the University of Western Ontario. Subsequently, Fran worked as a Nurse Practitioner in Cardiology at London Health Sciences Center and was nominated for the "Clinical Excellence Award for Cardiovascular Nursing" in 1999, at the Canadian Cardiovascular Council of Nurses Conference.   Fran has worked for more than 20 years as a Nurse Practitioner in the Intensive Care Unit, Cardiology Unit and in cardiovascular medicine.   Her experience in these fields has largely contributed to her exceptional knowledge of anatomy and affords her a unique approach to facial rejuvenation. 
Subsequent to her work in the hospitals, Fran developed an interest in medical aesthetics with a focus on anti-aging, advanced injectable techniques and complex skin conditions.  As a result, Fran went on to train with our own Dr. Rohan Bissoondath, amongst others, and has since practiced as an expert injector for a number of years.  She strongly believes in an individualized approach leading to sophisticated and natural results, one that begins with listening to the patient.  Frances's passion for knowledge in this field is evidenced by her continuous learning attending conferences and teachings all around the world.  Her training includes Mertz Aesthetic Facial Assessment Course, MD Codes Training,  AAIC Aesthetic Anatomy and Injection Course (Virtual), Paris, France with world renowned anatomist Dr. Sebastian Cotofana and Aesthetic Blueprint with Dr. Arthur Swift in Newport, California.  Fran has also attended numerous conferences.
When Fran is not busy helping clients rediscover and maintain their healthy, youthful skin she enjoys travelling or being active outdoors with her busy family. Fran also enjoys oil painting which contributes to her artistic side and her eye for symmetry and proportions.
Frances Krawiec is licensed through the College and Association of Registered Nurses of Alberta (CARNA).  She is a member of CSASN, CCCN, AMS, and IMCAS.
Nurse practitioners (NPs) are registered nurses who have additional education and nursing experience, which enables them to: Autonomously diagnose and treat illnesses. Order and interpret tests. Prescribe medications. Perform medical procedures.
After spending four years in university to obtain an undergraduate degree, prospective nurse practitioners then work for a minimum of two years as registered nurses. They then apply to a two-year master of nursing program, where they specialize in either pediatrics, primary care or adult care.
-